BowTie diagrams provide a graphical representation of the relationships between the causes of hazardous events, the escalation of such events to a range of possible outcomes, the controls preventing the event from occurring, and measures that limit the consequences and enable recovery from the event.
It presents a picture of the factors that could prevent these controls and recovery measures from being effective, the so-called escalation factors, and the controls that are in place to manage those factors. The effectiveness of the barriers and recovery measures are displayed enabling shortcomings in this respect to be readily recognised.
Significantly, the preventive and mitigative measures are linked to tasks, procedures, responsible individuals and competencies, thereby demonstrating the crucial connection between risk controls and the management system for assuring their ongoing effectiveness.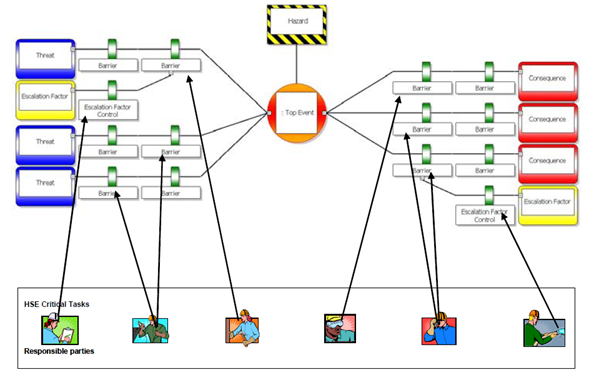 BowTie Scope
BowTies shall be developed in the following instances:
To demonstrate effective control of the following hazards and their associated threats and consequences.
Demonstrate effective control of non-Major Accident Hazards, and medium risk hazards.
Support key Health, Safety and Environmental (HSE) critical business processes such as auditing, incident investigations, management of change, maintenance planning and asset integrity management.
Evaluate other types of hazards, including non-HSE business related problems.
Evaluate hazardous tasks undertaken in the field; and
Evaluate unusually complex issues in more detail e.g. failure modes, escalation factors, threats, etc.
As a minimum, the following information would be required in order to conduct the workshop:
– Existing PHA / HAZOP and LOPA report (if available)
– Critical tasks list
– P&ID's
– Cause and Effects Diagrams
– Operating Data and Procedures
– Maintenance Data and Procedures
– Interlock List
Based on the project requirements, additional information may be required, which will be highlighted within the Terms of Reference (ToR).
As a minimum, the following personnel would be required in order to conduct the workshop:
– Process Engineer
– Controls and Instrumentation Engineer
– Process Safety Engineer
– Maintenance representative
– Operations representative
Based on the project requirements, additional personnel may be required to attend the workshop, which will be highlighted within the ToR.
On award of the study ES will issue a project ToR, which will highlight the assumptions that shall be made in the study, along with the workshop details, methodology and data sources that will be utilised as well as any further information required from the client.
Upon acceptance of the ToR, ES will facilitate the BowTie study through a workshop providing the facilitator and scribe. Once the workshop has been conducted ES will prepare a BowTie report describing the facility, the scope of work, a detailed methodology, the BowTie worksheets/diagram, a summary of the workshop actions and any recommendations based on the discussions during the workshop. ES highly recommends that following on from the BowTie study, a SIL Classification or SIL Determination analysis is conducted in order to determine the SIL requirements for any SIF's identified during the workshop.
ES are a globally renowned facilitators of BowTie studies having conducted many hours of BowTie studies, with a team of TUV Rheinland certified Functional Safety Engineers available for facilitation. For more information, or to discuss your needs for conducting a BowTie study, please contact us using the form below or email [email protected]